Public Safety & Commercial Systems

The ultimate vision advantage for public safety vehicles and marine craft has arrived. Increase officer safety, protect the community and prevent criminal activity, all with the power of Raytheon thermal imaging.
Applications:
Search and rescue
Area sweeps
Border patrol
Fugitive search
Nighttime navigation
Routine nighttime patrol
Game wardens
Open range – animal detection
Benefits:
Provide the powerful advantage of sight in the dark
All the systems see through dust, smoke, the first layer of vegetation etc.
Works day or night to find hard to see people or animals
Detect unauthorized or unwanted intruders
Monitor perimeters of restricted facilities, night or day
Quickly scan between homes, buildings, dark garages, alleys or even under vehicles
Identify lost boaters or stray objects on the water
Observe prowlers and criminals without their knowledge
We have vehicle mounted systems and systems that can be transferred from vehicle to vehicle. For extreme conditions we also have a CameraWash™ system that keeps the lens clear.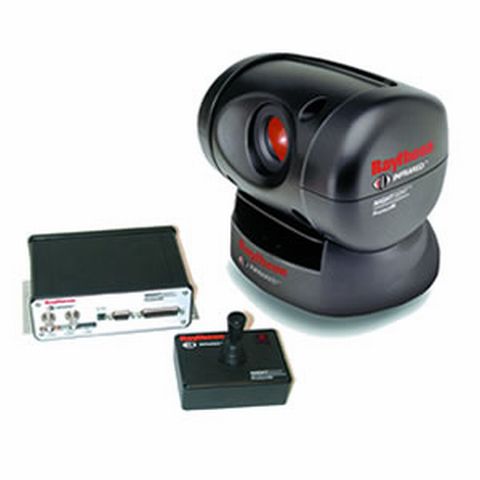 The Thermal–Eye 4000B is a vehicle–mounted thermal imaging camera system, developed specifically for use by public safety departments, law enforcement agencies and security professionals.
This rugged thermal imaging camera is easily roof-mounted on any vehicle and offers 360ƒ pan and tilt monitor or mobile data terminal inside the vehicle. The 4000B can also be used in a fixed mount configuration to survey a perimeter. Featuring Raytheon BST detector technology, the 4000B and 4000M offer users a clear, crisp image. People, vehicles, boats and other objects easily stand out from their surrounding environment, making it easy to spot potential criminal activity in seconds. The camera can detect human activity up to 1500 feet and is NTSC compatible. The joystick and monitor easily configured into any vehicle interior systems.
Also available, the Thermal–Eye 4000M is the weatherized marine version of the 4000B. With the same feature set as the 4000B, the Thermal-Eye 4000M is specifically designed to withstand the rigors of marine applications such as search and rescue, pollutant detection and more. Unaffected by light rain, snow or darkness, both the 4000B and 4000M provide a true infrared image without the use of intrusive lighting.